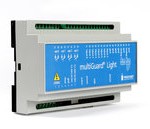 New from Profort: The first 3G alarm for monitoring and surveillance. 
multiGuard Light – now available in a new and improved 3G version.
For technical alarms and monitoring with GSM – independent of internet and telephone lines.
For optimal coverage it runs on both 2G og 3G GSM-net, and on all 3 GSM-nets in Denmark.
Same size and location of screw terminals as multiGuard Light 2G for easy mounting in case of replacement.