Software and Drivers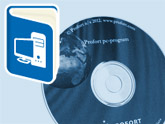 On this site you can download the PC Program for set-up of units, infrared codes for the most common heat pumps and drivers for Prolific and Sandberg USB–> RS232 converter.
The PC Program
Download the newest version of the PC Program here
At the completion of the installation a 6-digit key is required. The keys for the Quick Set-up program are the following:
M30GU8 (multiGuard)
P30JX8 (Piccolo Light)
To turn the SmartScreen Filter off, follow these steps:
Click the Tools icon, and then click Safety.
Click the following item: Turn Off SmartScreen Filter
IR Codes
Download IR codes as a .csv-file for control of heat pumps
The codes are imported from the Basic Set-up in the PC Program (optional) and are transferred via RS232 cable or GPRS/Internet for the GSM unit.
Drivers
Have you lost the installation CD for your USB–>RS232 converter, or do you experience problems with your converter, then you can try to install one of these following drivers:
Download drivers for Prolific XP here
Download driver for Prolific win7+8+10 here
Download drivers for Sandberg here
Driver for models with USB-B: