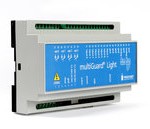 Save time and money when irrigation is controlled with multiGuard Light from Profort.
With multiGuard Light you need only one unit to remote control irrigation. multiGuard Light lets you control and monitor irrigation from afar.
The unit can be controlled either by text message, telephone call, internet or the Profort pc-program.
multiGuard Light is versatile and user-friendly – and without binding subscriptions or licences!
Read more about remote control of irrigation with multiGuard Light here.