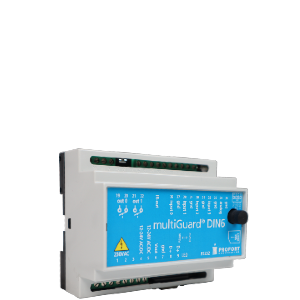 multiGuard® DIN6 
multiGuard® DIN6 is a complete unit for monitoring and remote control. The unit contains built-in modem and can transfer data and alarms via SMS, the internet, DTMF, SIA-IP or cable.
The unit has two separate relay contacts (start/stop). It controls air-to-air heat pumps using IR codes over an external IR transmitter and contains Modbus-interface for e.g. electric meters.
The unit is programmed by online platform masterview® or by SMS
Find quick guide for multiGuard® DIN6 here
Read a brochure about the multiGuard® family
DIN6, 4G – Profort no. 007950
Several uses
Irrigation: Alarm as SMS, email or DTMF call to 25 recipients.
Alarm from slurry tanks: 2 relay outputs for activation of e.g. contactors. An output can be made as a flash-lamp, which is activated in case of malfunction.
Energy metering:  Interface to e.g. energy meter via Modbus interface.
Control of sump pump pits: Built-in clock and calendar for lighting control and alarm.
Specifications
DIN rail, 6 modules.
230V + 12-24V AC/DC.
Output: 2 x 6 A.
4 inputs: Alarm (close/open) + 1 analog (0-10V, 0/4-20 mA, PT100, mm.).
Phone list: alarm to 25 numbers SMS/DTMF call.
Programming: online platform masterView or SMS.
Antenna: Built-in. External antenna optional.
Temperature: -10°C to +55°C.
10V outlet (max. 100 mA).