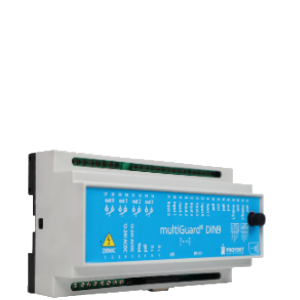 multiGuard® DIN9 
– a compact alarm system and all-round solution
multiGuard® DIN9 is a complete mobile transmitter and receiver unit for control and monitoring. Simply insert a SIM card and multiGuard is ready to use.
multiGuard® DIN9 can receive alarms om 8 inputs and measurements on 2 analog. Messages are sent as SMS, analog voice calls or DTMF to e.g. a control center.
An alarm can be sent to 25 recipients on a list and the order can be changed with one single SMS. Using SMS or DTMF call, 4 relays, e.g. for sirens, pumps or electric radiators, can be activated.
The unit is programmed by online platform masterview® or by SMS. All commands to the unit can be PIN protected or sent from approved numbers.
multiGuard® DIN9, like the other units in the series, has many built-in functions, such as calendar, clock and timer, but also has a built-in astronomical clock, which makes it especially suitable for street lighting.
Find the quick manual for multiGuard® DIN9 here
Find the data sheet for multiGuard® DIN9 here
Read a brochure about the multiGuard®-family
4 outputs, 8 alarm inputs, 2 analog inputs, 230V/12-24V AC/DC
DIN9, 4G – Profort no. 007960
Many areas of use
Monitoring:
Buildings/building sites: Monitoring to prevent theft, break-ins and vandalism using detectors placed by central entrances. In case of trespassing the alarm is triggered.
Machines: Alarm in case of errors, malfunction and violation of safety measures
Pumps/electrical equipment: Alarm as receipt that e.g. a well pump starts/stops.
Slurry tanks/boats/containers/trailers/caravans: Alarm in case of leakage or temperature fluctuations.
Remote control:
Holiday homes: Turn on/turn off heat. Read consumption of water, heat and electricity.
Farms/nurseries/irrigation: E.g. enable/disable irrigation.
Street lighting: Turn on/turn off lights at specific times.
Specifications
 Alarm log: 256 spaces
Log for measurements: 73.000 (2 x per hour)
Transfer of measurements as .csv-file w. mobile data/RS232
Power failure alarm w. 9V Accu mounted
Alarm as sms, voice call and DTMF (to control center)
90 secs. memory
Receipt for alarm with # using voice call
25 telephone numbers in call list
Screening of numbers (approved nos.)
SIA-IP to control centre
Dimensions: 220x190x80 mm, 900 gr

Power supply: 230 VAC or 12-24V AC/DC

Rechargeable 9 V battery optional
8 digital inputs (3 can be used as pulse counters)
Alarm on NC, NO or 24 VDC
2 analog inputs (0-10 VDC, 0-20 mA, PT 100, temperature)
4 relay outputs (max. 16A)
8 areas (zones) for individual alarms
Clock and calendar function with automatic status
Power failure: alarm is sent if 9V ACCU is installed
Programming: online platform masterView or SMS
Antenna: Built-in. External antenna optional
Temperature: -20ºC to 55º