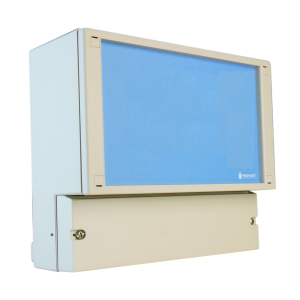 multiGuard® Master IO 
– an alarm system for medium-sized installations
multiGuard® Master IO is a mobile transmitter and receiver unit for alarm, control and logging of wired inputs. It is especially suitable for monitoring of temperature in cold and freeze storage. It logs all measurements twice every hour and sends alarm in case of abnormal conditions.
multiGuard® Master IO is the advanced  solution to medium-sized installations. It comes in a waterproof IP65 box and can be used in aggressive environments without having to use a cabinet.
Programming, monitoring and reading of log can be done via mobile data (GPRS) and Profort's web portal or pc program and RS232 cable.
Find the quick manual for multiGuard® Master IO here
Find the data sheet for multiGuard® Master IO here
Read a brochure about the multiGuard®-family
8 relay outputs, 8 alarm inputs, 4 analog inputs, 230V/12-24V AC/DC, IP65, modbus.
Profort no. 004970
Specifications
Alarm log: 256 spaces

Log for measurements: 73.000 (2 x per hour)
Transfer of measurements as .csv-file w. mobile data/RS232
Power failure alarm w. 9V Accu mounted
Alarm as sms, voice call and DTMF (to control center)
90 secs. memory
Receipt for alarm with # using voice call
25 telephone numbers in call list
Screening of numbers (approved nos.)
SIA-IP to control center
Dimensions: 220x190x80 mm, 900 gr
IP65 box

Power supply: 230 VAC or 12-24V AC/DC

Rechargeable 9 V battery optional
8 digital inputs (3 can be used as pulse counters)
Alarm on NC, NO or 24 VDC
4 analog inputs (0-10 VDC, 0-20 mA, PT 100, temperature)
8 relay outputs (max. 16A)
8 areas (zones) for individual alarms
Clock and calendar function with automatic status
Power failure: alarm is sent if 9V ACCU is installed
Programming: from PC via RS232, SMS or internet+mobile data
Antenna: built-in. External antenna optional
Temperature: -20ºC to 55º